Welcome to Gravestone Transformations!
Here at GravestoneTransformations.com, you will find that we are historic cemetery conservators who believe in preserving history; one monument at a time, through preservation methods used by the National Center for Preservation Technology and Training (NCPTT).
Gravestone Transformations proudly offer a variety of services for your ancestor's resting place.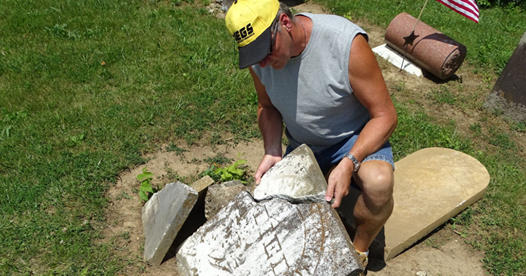 Repair and Resetting Services
Depending on a cemeteries terrain, as well as, a memorials foundation, monuments can lean over time. That uneven settling can be stressful on any gravestone; whether a single tablet or one made of multiple pieces.
Stabilization techniques can be used to retain the structural integrity of a gravestone with minimal intervention to its historic architecture.
With proper monument maintenance, our ancestor's historical artifact can be preserved for many generations to come.
Before repairing or resetting a stone, we perform an assessment. The assessment determines the best technique to use that will slow the deterioration process and preserve the stone.
For a full list of our services, click HERE. To view more of our portfolio, click HERE.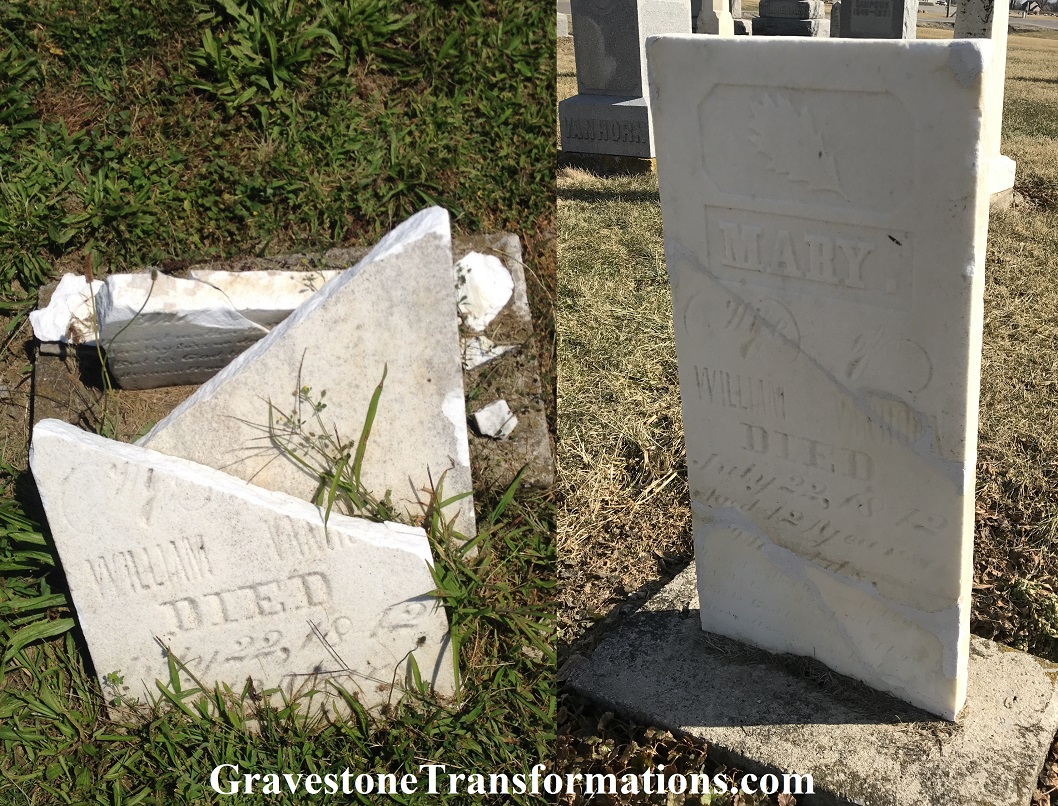 Monument for Nancy Perry-VanHorn located in the VanHorn Cemetery.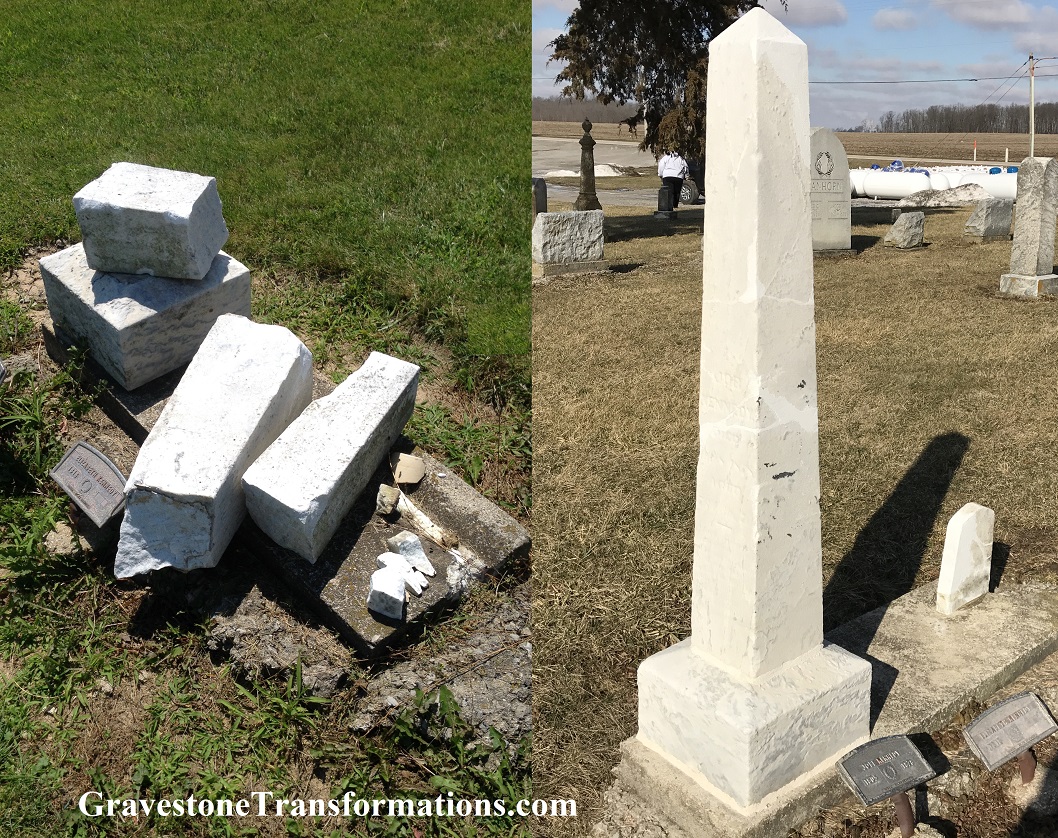 Monument for Elizabeth Kennedy located in the VanHorn Cemetery.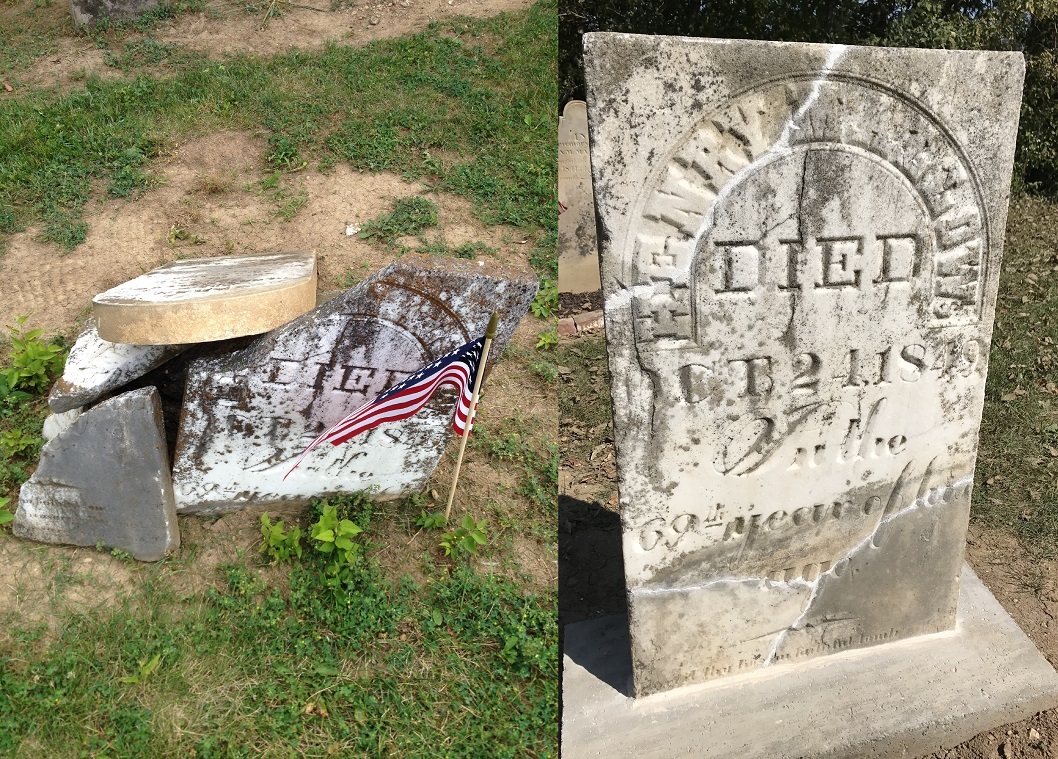 Monument for Henry Mallow located in the Mallow-Hegler Cemetery.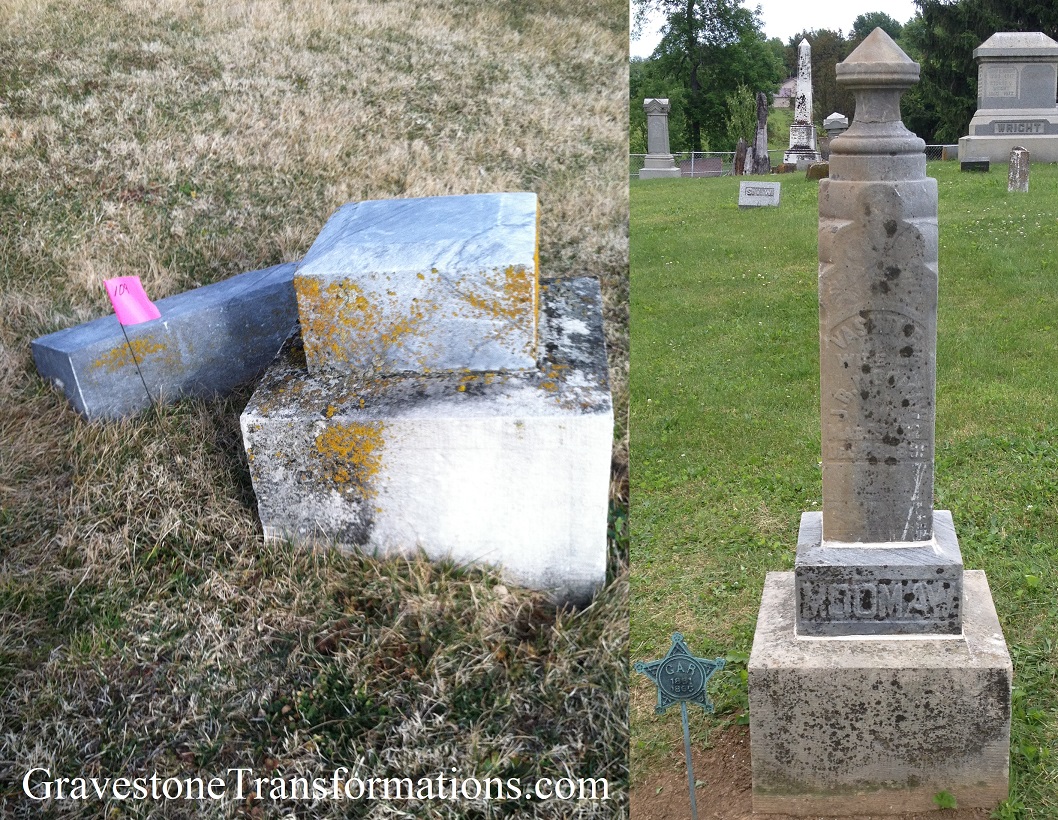 Monument for Jacob Vashtie Moomaw located in the South Salem Cemetery.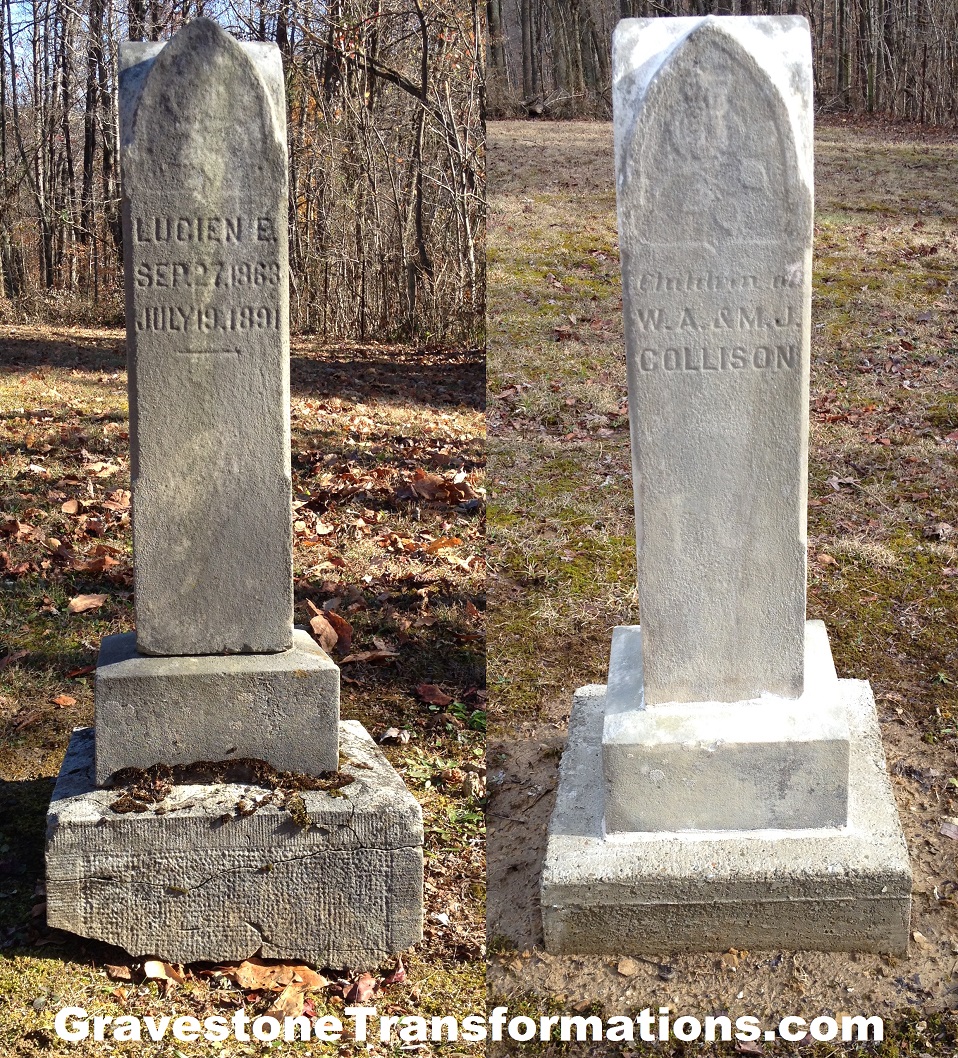 Monument for Lucien Arthur Colloson located in the Oak Grove Cemetery.
Cleaning and Maintenance Services
Outdoor elements play a key role in the weathering and erosion of our ancestor's monuments. Algae, fungi, lichen, mold and plant life can trap moisture on the stone, as well as, under the surface. By cleaning and eliminating those elements, our ancestor's monuments can be preserved for generations to come. For a full list of our services, click HERE.
Our client's receive before and after photos on each of our contracted services. To view more of our portfolio, click HERE.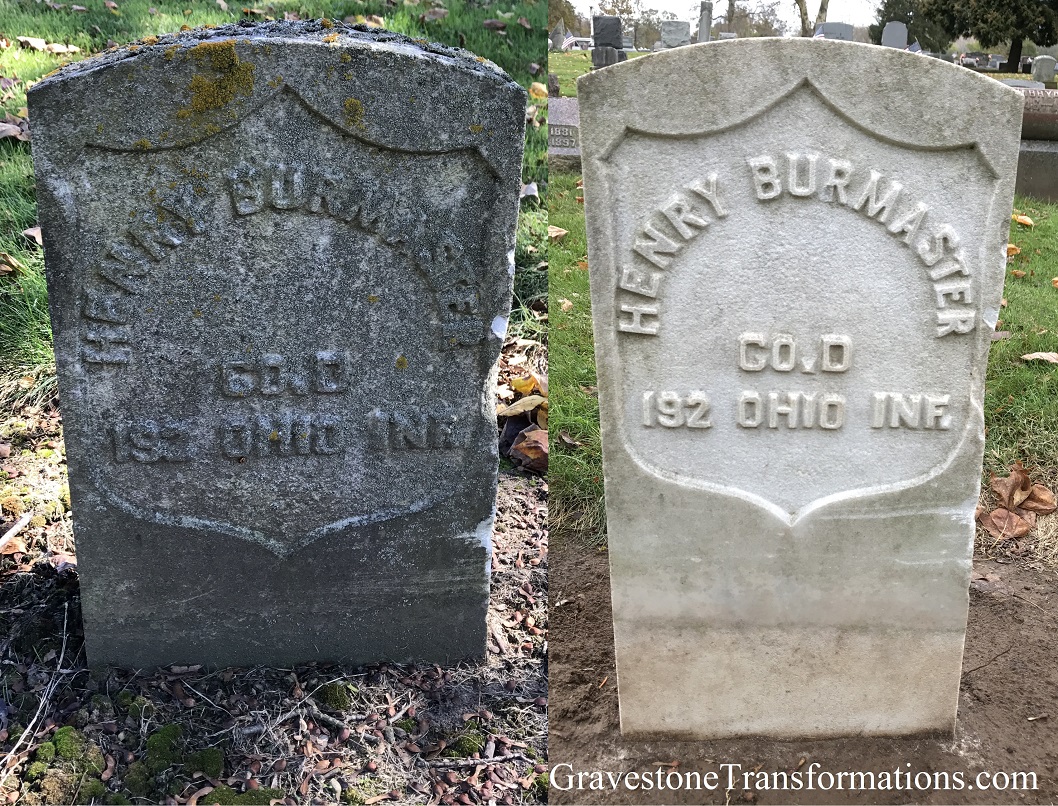 Monument for Henry Burmaster located in the Graceland Cemetery.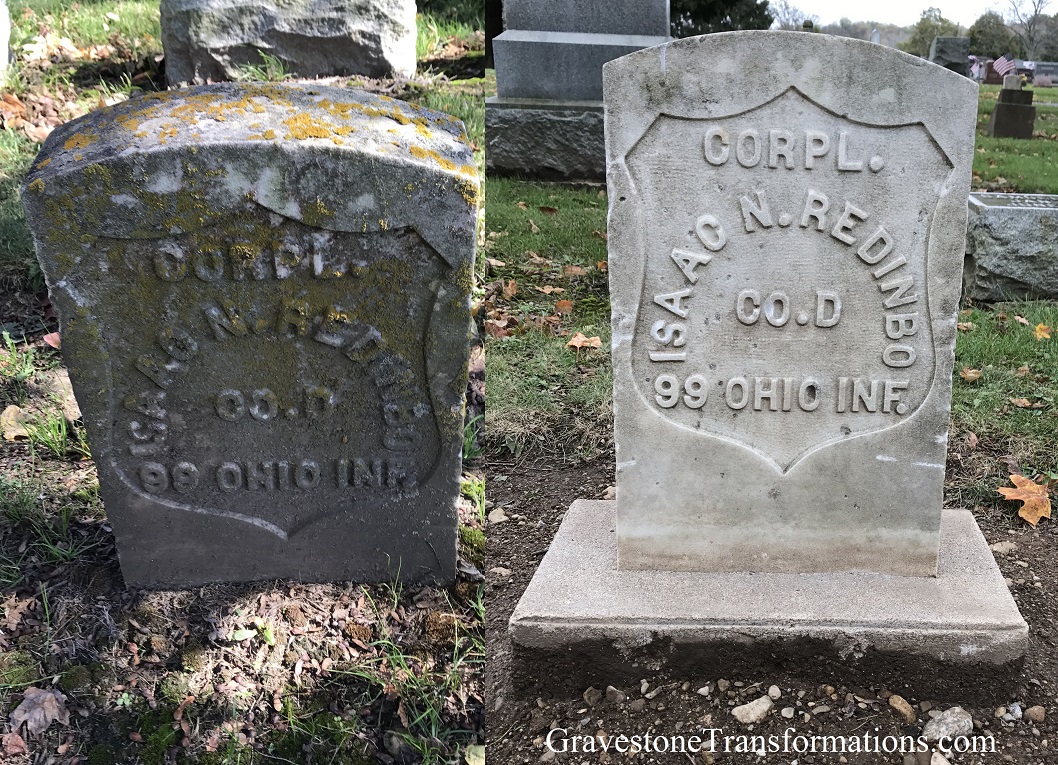 Monument for Isaac Redinbo located in the Graceland Cemetery.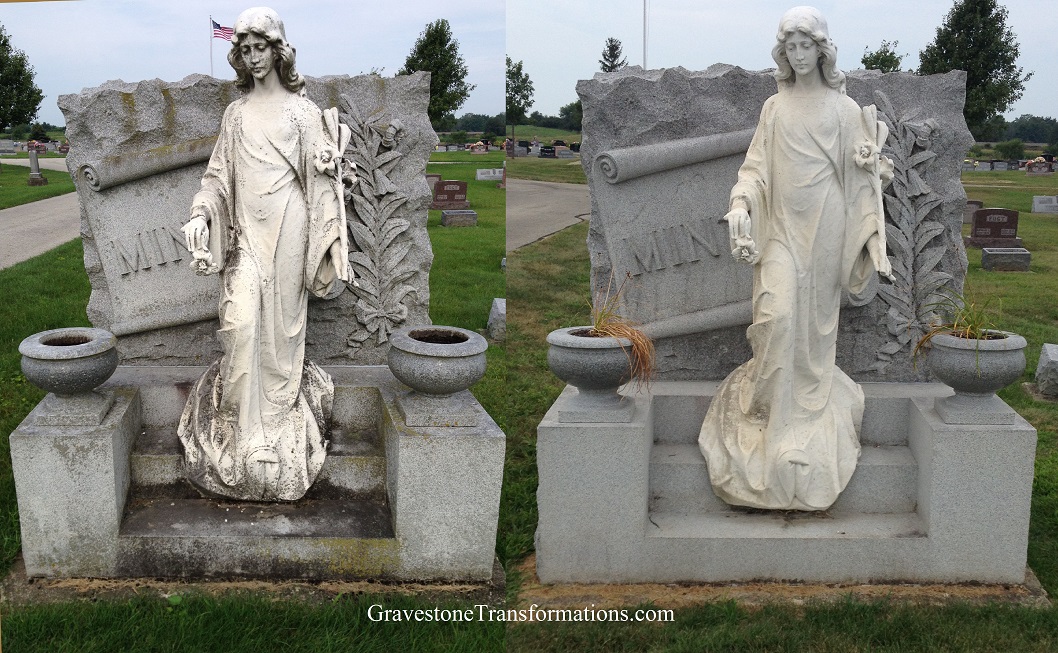 Minton Statue in the Pearl Cemetery.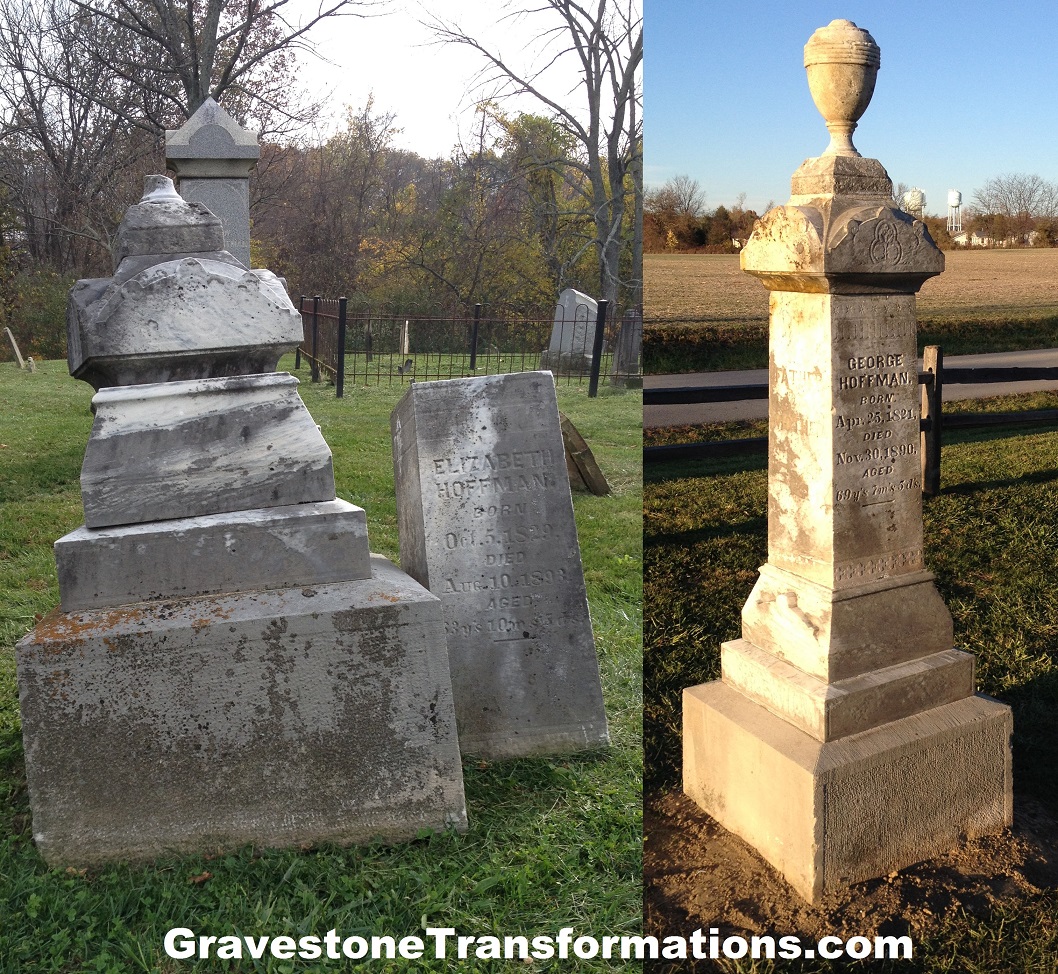 Monument for George and Elizabeth Hoffman in the Zion Cemetery.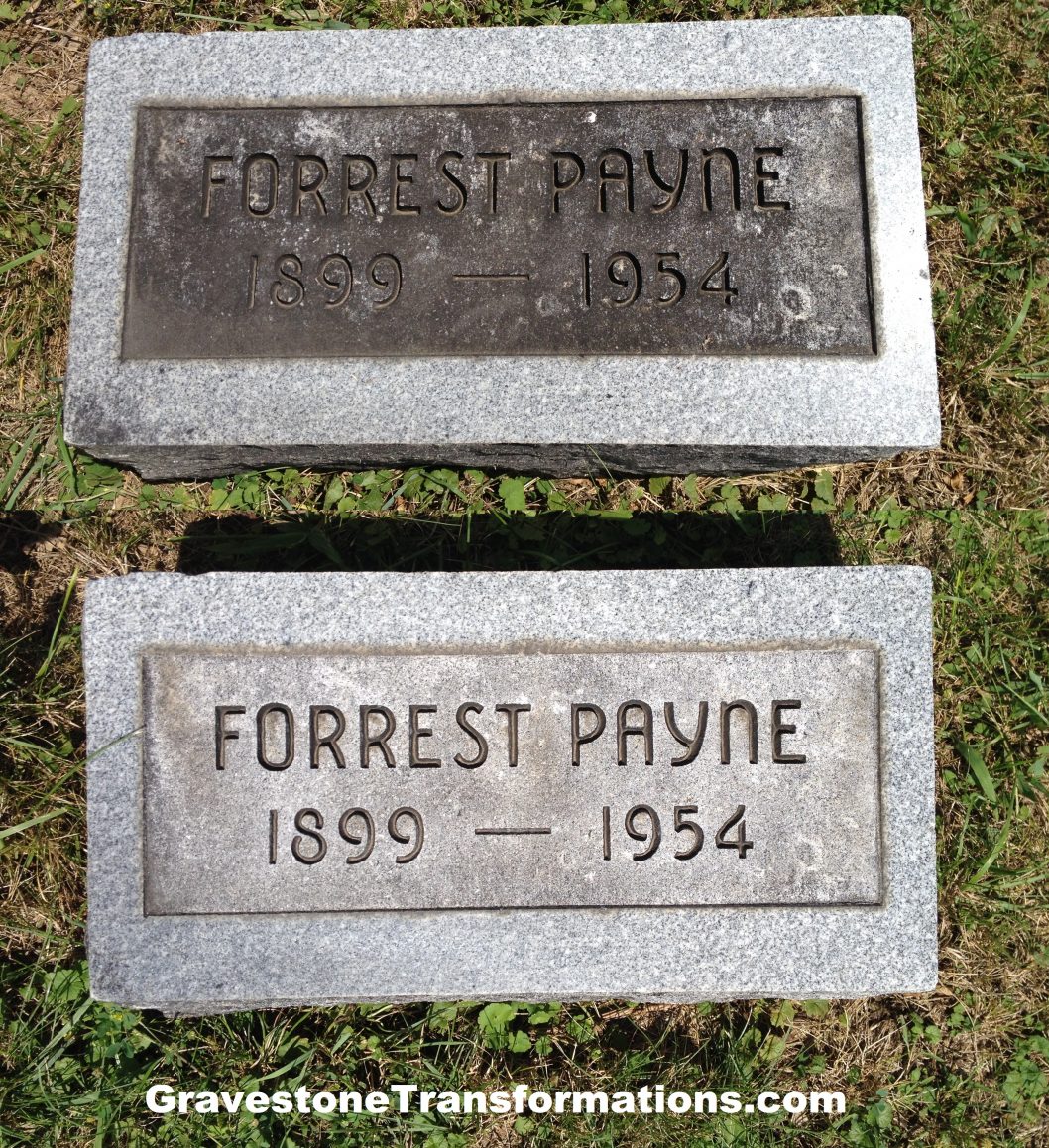 Monument for Forrest Payne in the Browns Chapel Cemetery.
Gravestone Transformations offers a convenient way to Donate to ANY Project:
A Family Cemetery 
An Ancestor's Gravestone

A Community Cemetery

Gravestone Transformations

now offers a donation page on their website. To view their donation page, click HERE.
Their donation page makes it convenient for communities to help the conservation and preservation efforts in their local historic cemeteries.
The donation page also makes it convenient for families to preserve an ancestor's gravestone.
Do you have a historic cemetery that needs preserved in your local community?
Do you have a family cemetery or an ancestor's gravestone that needs preservation efforts made?
Contact

Gravestone Transformations

. We are located in Ohio, but our service area also includes the surrounding states.
Let Our Customers Do The Talking…….
My Great, Great Grandfather's Veteran's marker is an incredible transformation. I wasn't sure if any of the mold and growth would come off. Thank you for doing such a great job.
We are pleased with Ebenezer's new grave marker. It is just what we ordered and more. Were surprised with the additional engraving and are glad that you could keep it exposed.
Mark, I'm the one who should be Thanking YOU! So pleased you could do these stones for us this year. You surely have lavished care on all these stones. I'd be delighted to do references for you and will look forward to telling them what an excellent job you've done for us on some very difficult repair jobs! The work you did here last year (and the prior season) is beautiful, and we are eager to have you continue it.
I wanted to let you know that I visited my Grandma's gravestone yesterday and I'm amazed at how much better it looks! It's been a while since I've been out, and it is truly unbelievable how amazing it looks now! I can't Thank You enough, and will be sure to give your contact info to anyone that asks!
Thank you for locating my 4th Great Grandparents in Brown's Chapel Cemetery and for providing me with a monument examination and photos. I know it was a big job and I appreciate every effort you put into cleaning & preserving their stone. It looks beautiful and I feel certain their memorial will be here for another 130 years. I highly recommend Gravestone Transformations! Thank you so much for all you've done.
My Uncle's Veteran's monument now looks like the tribute he deserves. Thank you for cleaning it. It's a great service you're providing.